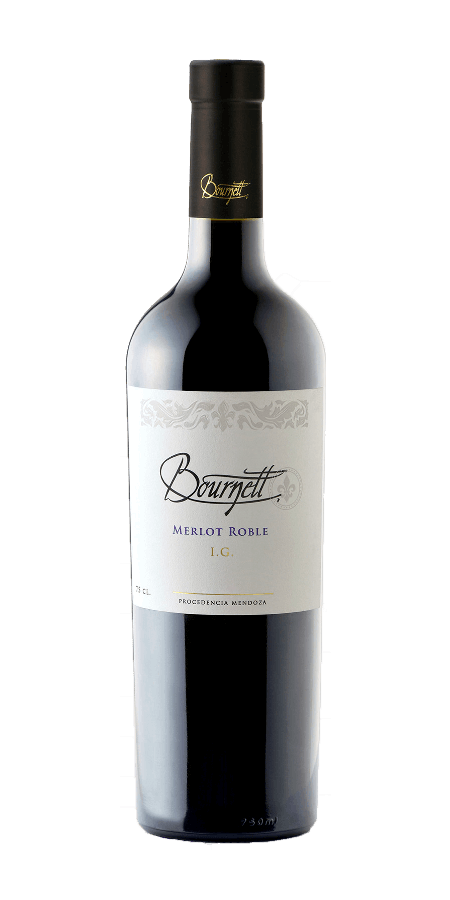 Merlot Roble I.G.
Bournett, Merlot Roble I.G.
---
It is a violet-red wine with great chromatic vivacity, which shows its body without having tasted it, on the nose it is complex, clean and varietal, with notes of ripe rijas and subtle peppery fruit from the pyrazines and all melted in a balsamic mix provided by French oak wood. The palate is where it ends up captivating us with its balance of acidity, alcohol and tannic charge, evolving in the mouth, fleshy and structured; then, at the end of the intense palate, delicate fruit is added, with an aftertaste of vanilla notes from the wood. Aged for six months in French oak barrels. The IG merlot, like its line companion, the renowned Malbec IG Bournett, define a great intensity of fruit, accompanied by notes of French oak, which make it part of our line of geographically outstanding ones.
Data sheet
Alcohol: 13.00 % v/v
Total acidity: 5.70 gr./l
Sugar: 3.80 gr./l
Fermentation: with selected yeasts and temperatures between 26 and 28º C.
Malolactic Fermentation: produced
Harvest in the second week of March, manual in 20kg plastic boxes. Defoliation of the vineyard and thinning of clusters. 100% protected with anti-hail mesh.
Breeding: 50% of the wine in French oak barrels.